I like book tags, especially ones that I can relate to. Last week I was tagged with the fun emoji book tag by blogger Ali who writes at I Wuv Books, she has an amazing blog about book reviews, book topics and anything bookish!
In this tag, you pair your five most used or recently used emojis to books.
LINE is my favourite chat app, so the emojis I'm using are their expressive stickers.
Here we go!
---
CRYING FACE
A book that made me cry so much was the Chicken Soup for the Soul — Love Stories. I have a box of tissues on standby whenever I read it.
The Chicken Soup series are famous for many reasons. One of the reason is the real stories of real people who can truly touch our hearts. This collection is one of the best I've read thus far. The stories are cute, funny, inspiring, heartwarming and sometimes heartbreaking. Be it with your spouse, parents or siblings, love is the best thing in life.
---
LOVING FACE
Talking about love, Maeve Binchy's Nights of Rain and Stars has got to be my favourite romance novel.
Imagine a picturesque town in Greece where travelers' destiny meet, weaving a love's tale so rich and beautiful, matched only by the landscapes of emerald sea and sunbathed architectures.
Synopsis from GoodReads.
In a Greek taverna, high over the small village of Aghia Anna, four people meet for the first time: Fiona, an Irish nurse, Thomas, a Californian academic; Elsa, a German television presenter; and David a shy English boy. Along with Andreas, the old man who runs the taverna, they become close to each other after witnessing a tragedy when a pleasure steamer catches fire in the harbour. NIGHTS OF RAIN AND STARS is the story of one summer when Fiona, Thomas, Elsa and David all have to face the particular life crisis which first made them leave their homes and end up in Greece. With the help of Vonni, a middle-aged Irish woman who lives in the village and is now a near-native, they each find a solution – although not necessarily the one they anticipated…
---
FOODIE FACE
Food is my favourite ❤ Talking about the perfect combination of food and book (no, not recipes) this book has what it takes — Food: True Stories of Life on the Road (Travelers' Tales Guides).
I read this book way back in college days from the library. A memorable one as it is a collection of stories about food adventures all over the world. Somehow it reminds me of the nostalgic days hanging around in campus. And this book sparked my dream of traveling the world, in search for hearty meals around the globe.
Editorial note from the publisher

Many people will tell you that they travel, in large part, to eat, to break bread with strangers and leave the table with friends, to discover the world through the medium of cuisine, to deepen their understanding, broaden their horizons, and make their travels the richer. This collection of stories furthers the proposition that humanity is revealed through cuisine just as surely as it is through any other art or social activity. Through the personal experience of the writers, in rollicking adventure, humor, and even pathos, the reader will agree that, as Napoleon said of the army, we travel on our stomachs.
---
SLEEPY FACE
Sleepy while reading a book? I think you might have guessed it right. It's a boring book with less than interesting characters and writings that made you yawn.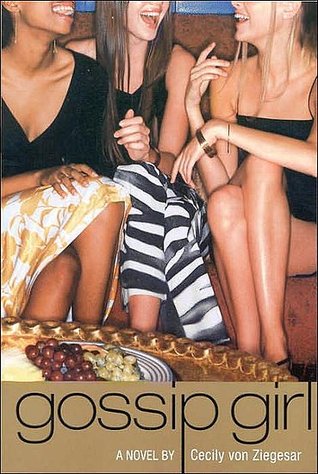 Well the book I'm talking about is Gossip Girl.
A book full of high society drama and rich spoilt kids.
I'm writing a review of this book soon, it's in my review line ups. Here's synopsis from GoodReads.
Welcome to New York City's Upper East Side, where my friends and I live, go to school, play, and sleep—sometimes with each other.

S is back from boarding school, and if we aren't careful, she's going to win over our teachers, wear that dress we couldn't fit into, steal our boyfriends' hearts, and basically ruin our lives in a major way. I'll be watching closely . . .

You know you love me,

gossip girl
---
CUP OF TEA FACE
Haha I made that up. This means it's a book that you indulge in with a cup of tea (or coffee) by your side.
I will usually do this during a light read, an interesting and fun book that could go with a little tea break.
The book that I'd have a cup of tea over with is Faery Tale. A little private moment tucked in the most comfy place and a book about searching for magical beings is a great way to spend my late noons.
---
That's my list of fives. What is yours? I'm tagging the following book blogs and anyone who loves books and can link the emoticons to this challenging book tag.
Have fun! 😀